CLICK ON THE ABOVE NAMES TO VIEW OVER 130 MUSIC FILES
SILVER SPRINGS IS UP FOR AUCTION!!!
As I no longer have the time to update anymore, I would like to find out if
any of you guys who are still really into Fleetwood Mac would like to buy this
website from me. If there is any interest in this at all, please contact me here.
---
NEW ADDITIONS:
You Make Loving Fun
Keep sending in your transciptions and check
the request lists on the individual pages.
---
Silver Springs has just won an award!!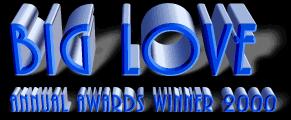 for Best Music (sheet, tablature) site
Thank you very much for the award and keep the Fleetwood Mac flag flyin'.
---
SIGN MY GUESTBOOK <-------->VIEW MY GUESTBOOK
---
Links
WANT MORE THAN JUST THE MUSIC?
GO HERE.

---
ANY REQUESTS? MAIL 'EM HERE!
---
NUMBER OF HITS TO THIS PAGE:
since August 30, 1998

Foremen